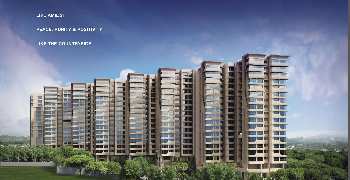 Andheri is one of many localities in the western region of Mumbai, India. This area is considered an important hub of the Bollywood film industry. Andheri is also described as Mumbai's talent enclave as innumerable talents are discovered here. Andheri west provides a number of premium locations of real estate namely Versova and Lokhandwala. The western part of Andheri, over time, has become a hot spot for residential development in Mumbai.

For the dwellers in the prominent localities of Mumbai, the great city has offered opportunities for an upbeat lifestyle. Therefore the availability of essential services is taken care of in this place, such as Kokilaben Dhirubhai Ambani hospital.
This area in most time of the year faces huge demand for residential properties. These demands in most cases originate from the elite class. Few best property for sale is found in this place. Hence, a large scale demand and supply is noticed in Andheri west for larger homes.

Properties
In the new plans of development sanctioned in this place, a large number of layouts of recreational grounds and large plots are included, which exceeds 400 in number. According to some real estate agents, Andheri west homes the largest construction volume. This place provides a good amount of buildable area.
The current rate of purchase of some best property for sale in Andheri West amounts from rupees 2.89 crores to rupees 3.60 crores. The experts in the industry of real estate have been quite optimistic regarding the future developments of this place. The main reason for this anticipation is the presence of strong infrastructure, excellent connectivity, commercial developments and various other social amenities.
The rental rates of flats with 1 bedroom, hall and kitchen are available within a budget ranging from rupees 18000 and rupees 32000 per month, and for flats, with 2 bedrooms, hall and kitchen the renting rate ranges from rupees 40000 to rupees 72000. Andheri west enjoys a high latent demand for offering rents of residential units. This allows the investors handsome capital and rental yields.
While investing in properties for sale available in Andheri west, the investor has to involve a huge amount of money. Therefore the investor needs to be extra cautious and careful about the profit on purchase and being saved from catastrophic losses. Therefore after investing in an immovable, real property the investor should also be prepared for either reselling it or renting it out to the tenants.

Communication
Andheri west offers quite good connectivity to almost every part of Mumbai. The important roadways of this place include the Western Express Highway, Jogeshwari Vikhroli Link Road, Andheri Kurla Road and SV Road.
Andheri west is also connected to the rest of Mumbai through railway tracks, which includes the western line, the Harbour Line of the suburban railway network of Mumbai and the two metro lines. The proximity of this place to Mumbai airport is also an advantage.

Conclusion
There are many agencies that provide services for real estate in Mumbai. These agencies along with providing information about the properties also look after the buying services, property rental services, property selling services and many others for the widespread options of commercial and residential properties. These agencies with their remarkable good communication with the clients and transparency gain trust and reliability
This entry was posted on June, 30, 2021 at 22 : 58 pm and is filed under Property for Sale. You can follow any responses to this entry through the RSS 2.0 feed. You can leave a response from your own site.